Safety cabinets for sampler feeders
Improved occupational safety: acid fumes are removed from the laboratory
Minimised sample contamination: samples are not subjected to dust or similar contaminants
The front hatch opens, which allows the sample feeder to be used during maintenance
For electrical cables, control cables and similar, there is a port in the back of the cabinet
Exhaust connection behind the cabinet
Various sizes available (size is also customisable)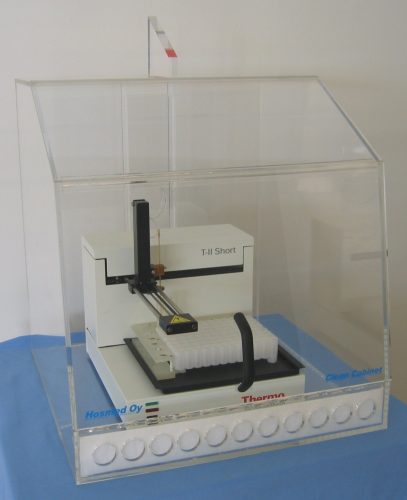 When processing samples with atomic spectroscopy systems, strong acids are used that corrode the system and the laboratory environment. Hosmed Oy manufactures acrylic cabinets through which acidic fumes and other chemical fumes can be directed safely to the ventilation system. The cabinets are built based on the laboratory's needs and dimensions.
Our expert is ready to help
We are happy to tell you more and help you choose the equipment that best matches your needs.
"(Required)" indicates required fields